Quality and Affordable Brampton Auto Repair, Engine Tune Up, Alignment & Replacement
Car repair and servicing requires the efforts of skilled technicians; improperly trained mechanics can easily make mistakes. Quite commonly, inexperienced mechanics can make errors that lead to car parts needing to be replaced, rather than just repaired.
At Cars 'R' Us, we have a highly-experienced team of automotive experts to serve our Brampton and Mississauga clients with superior skills in auto repairs, engine tune-ups, and replacements. All of our mechanics have the factor- training credentials and knowledge of all the different car models in today's market.
Cars 'R' Us has been the go-to shop and tinkering hub for major and minor car repairs and engine problems for over 20 years. Whether you're looking for brakes or tire repair, wheel alignment service, detailing, transmission replacement, we've got it covered!
Below you can find a list of our comprehensive services in the Mississauga and Brampton area. You can always contact us if you cannot find the particular service you are looking for.
Auto Services Brampton: Repairs & Replacements
BRAKE – Pad, Shoe, Rotor. Drum. Caliper. Noise, Vibration, Line. Master cylinder. Wheel cylinder
TIRE – Patch. Installation. Rotate. Balance. Wear. Noise. Bearing. Rim. All season. Winter.
SENSOR – Check engine light. Service engine soon. Airbag. Abs. Tire pressure. Oxygen sensor
ELECTRICAL Bulb. Signals. Lights. Wiring. Short. Battery drain. Starter. Alternator. Battery.
ENGINE – Noise. Leak. Vibration. Belt. Timing belt. Head gasket. Intake manifold gasket. Exhaust manifold gasket. Seal. Mount. Tune up. Spark plugs. Oil change. Replace. Swap
TRANSMISSION – Slip. Jerks. Service. Flush. Replace. Shaft. Drive axle. CV shaft. Filter Change. Differential. Transfer case. Propeller shaft.
EXHAUST – Leak. Noise. Rattle. Pipe. Gasket. Catalytic convertor. Muffler. Resonator.
MUFFLER – Leak. Loud. Noise. Replace.
RADIATOR – Leak. Replace. Overheat. Overflow. Fan. Hose. Coolant. Antifreeze.
SUSPENSION – Noise. Bal Joint. Tie rod end. Shock. Shocker. Strut. Spring. Spindle. Control arm. Tire. Rim. Bearing. Alignment.
HEATING & AIR CONDITIONING – No heat. Fan. Compressor. Evaporator. Condenser. Heater core. AC gas. Coolant. Flush. Recharge. Thermostat.
Maintenance & Other Services
Safety Inspections
Bumper to bumper inspection
Brake inspection and service
Oil Changes
Scanning
Wheel Alignment
Tune Up
Engine Cleaning
Computer Diagnostics
Transmission Service or Flush
Cooling system service or flush
Shockers/Shocks/Struts
Windshield Replace
Towing Services
Buy scrap cars
Free Estimates are Offered for all Auto Repairs, Replacements, Engine Tune-Ups & Maintenance Services in Brampton and Mississauga
We are committed to providing our Mississauga and Brampton clients with the best service at the best price. We also offer discounts by way of promotional coupons.  See our Service & Coupon page for details.
View our printable COUPON below: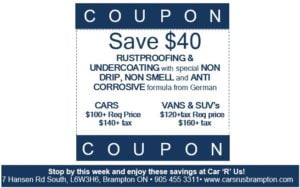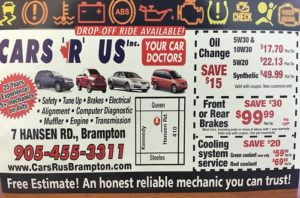 To get an idea how Cars 'R' Us does the work, please take a look through the images below or visit our Gallery page to check some of our past works in Brampton and Mississauga.
Simply click on each image to have a better view of the entry. We regularly update our website so expect more photos to come.
For all your car repairs, engine tune-ups, replacements and maintenance services, please contact Car 'R' Us TODAY!
Address: 7 Hansen Rd South, Brampton, Ontario L6W 3H6
Phone: (905) 455 3311
Fax: (905) 455 0200
Email: [email protected]